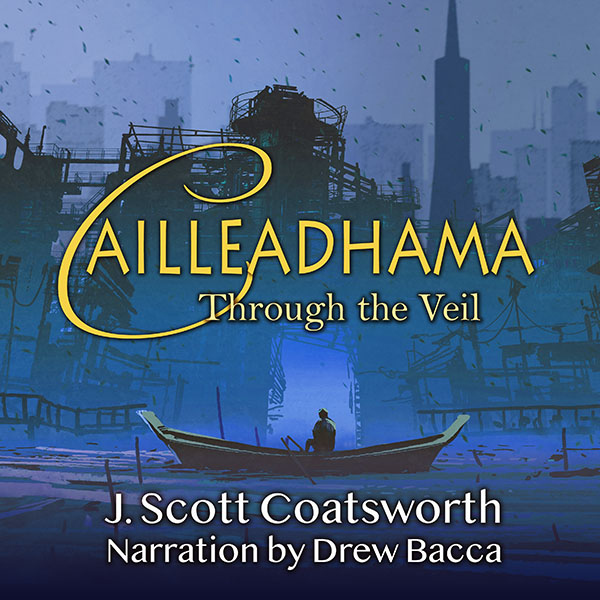 J. Scott Coatsworth's MM "elf-meets-trans-man in post-climate-change San Francisco" book Cailleadhama is now out in audiobook format. And there's a giveaway!
Colton is a trans man living in a climate-changed world. He plies the canals that used to be city streets, earning a living taking tourists on illicit journeys through San Francisco's flooded edges beneath the imposing bulk of the Wall.
Tris is an elf who comes through the veil to the City by the Bay – the Caille – on a coming of age pilgrimage called the Cailleadhama. He is searching for his brother Laris, who went missing after crossing through the Caille years before.
The two men find they have common cause, and together they set off to find Laris in a world transformed by the twin forces of greed and climate change. And in the end, they find out more than they ever expected, both about the warming world and their own selves.
---
Giveaway
Scott is giving away your choice of a $20 Amazon Gift Certificate or a signed first edition of the Liminal Sky: Ariadne Cycle Trilogy (USA only). Enter via Rafflecopter:
a Rafflecopter giveawayhttps://widget-prime.rafflecopter.com/launch.js
Direct Link: http://www.rafflecopter.com/rafl/display/b60e8d47179/?
---
Excerpt
Audio Excerpt:
Text Excerpt:
Tris climbed the grassy hillside above the castle and village of Gleann Sìdh, the tendrils of early morning fog slowly burning off the roofs and treetops in the valley behind him.
He took a deep breath of the cool mountain air in the vale, enjoying the warmth of the sun on his face. His carry-sack was slung over his shoulder, and his brother's ocarina was nestled in his palm, the ceramic flute glimmering blue in the morning light. He hoped it would lead him to Laris in the Saoleile.
"Tris," a girl's high voice shouted at him from behind.
He turned to see Mirabelle, his little sister, barreling up the hillside toward him.
"Wait for me," she called, and he stood his ground, undaunted by the charge of the redheaded menace.
She reached him at last and bent over, putting her hands on her knees, panting heavily. "Where… are… you… going?"
He reached out to ruffle her ragamuffin hair. "I'm hunting for a few days. Out past Scathan Lake."
She looked up at him suspiciously. "Where's your bow?"
He laughed. "Well, more stalking than hunting. I just wanted to get away from home for a few days." He frowned. "Laris left us two years ago today."
"I know," she said, smiling wistfully. "Can I come with you?"
He shook his head. That was all he needed. "Not this time, Miri. I only have enough supplies for me. And besides, someone has to take care of our mother and father. But I promise I'll be back home soon."
A shadow crossed Mirabelle's face, and she frowned. "You promise? Laris promised to come home, too."
Tris reached down and swept his sister up in his arms, hugging her tight. "I promise. I miss him too." He held her for a long moment, his face buried in her wild red hair. How could he leave her behind? Then again, what choice did he have? Their brother's absence was weighing ever more heavily on his soul.
She grabbed his hair, pulling on it playfully.
"Ouch," he said, laughing. Miri always knew how to lift the shadow from his heart. She smelled like sunshine.
He set her down. "Now leave me be," he said. He could do this.
He pulled something from his carry-sack, handing her a pair of dice carved from bone.
"What are they?" she asked, her eyes wide, peering at them on her palm as if they might spring to life.
"They're magic. When you roll them together, they'll tell you how many days until I'm coming home. But they will only work once." He winked at her. "Now off with you."
She shoved the dice down in the pouch tied at her waist and threw her arms around him. "I love you, Tris," she said, giving him a kiss on the cheek. Then she took off down the hillside back toward the village.
He watched her until she disappeared beneath the trees. He hoped he'd be able to keep his promise.
He resumed his climb, stirring up a cloud of blue and gold butterflies from the tall grass. At last, he gained the top of the hill, where the dark line of trees awaited him, and entered the Havenwood, turning back once to see that he was not followed.
Although he wasn't far from the village, the forest here was a little wild. The trees crowded together, whispering to one another as the wind blew through the branches. Their trunks were covered with ivy, which grew thickly despite the lack of sun, their leaves black as pitch.
He had spent most of his life roaming these woods and knew them as well as he knew the streets of Gleann Sìdh. He strode confidently under the dark canopy, turning off the path that led to the lake after a few moments to follow a faint deer track that angled off to the south instead.
He hated misleading his parents and his sister this way. But if they had known what he planned, they would have tried to stop him.
Most young elves crossed the veil to the Saoleile at fifty. Tris was only forty—his Cailleadhama should have still been years away. But Laris had been gone for two years today—fourteen years on the other side. Tris had decided to find him and bring him back.
Although his people could cross the Caille from many places in Faery at need, there were certain places where it was much easier, where the veil could be influenced to land one at a specific place on the other side.
Laris had been next in line for the throne, and now Tris was expected to take his place. He wanted nothing to do with being King, preferring to spend his days in the forest and his nights in the beds of the beautiful men of the Kingdom.
The track took him past Stillwater Creek, and he paused to take a quick drink of the cool, refreshing water. After a bit he struck away from the deer track, along the side of a large hill. The trees slowly fell away, and soon he was climbing up to the crest of the nearly-round tor. Called Cnoc Trasnu or simply Crossing Hill, it stood above the rest of the forest in the vale, with a view of the land around for miles, from the Endless Sea to the west to Gleann Sìdh in the east. If he turned, he could probably see smoke coming up from the chimneys of his village, nestled around the castle.
The hill was mounted by a circle of stones, each three times Tris's height. Huge rectangles of black stone, sunk deep into the ground around the summit. The surfaces were smooth as glass, and if he looked closely, he could almost see into their depths, where eerie specks of light glittered in the inky black. Trapped magic, wild and dangerous.
---
Author Bio
Scott lives with his husband Mark in a yellow bungalow in Sacramento. He was indoctrinated into fantasy and sci fi by his mother at the tender age of nine. He devoured her library, but as he grew up, he wondered where all the people like him were.
He decided that if there weren't queer characters in his favorite genres, he would remake them to his own ends.
A Rainbow Award winning author, he runs Queer Sci Fi, QueeRomance Ink, and Other Worlds Ink with Mark, sites that celebrate fiction reflecting queer reality, and is a full member of the Science Fiction and Fantasy Writers of America (SFWA).
Author Website: https://www.jscottcoatsworth.com
Author Facebook (Personal): https://www.facebook.com/jscottcoatsworth
Author Facebook (Author Page): https://www.facebook.com/jscottcoatsworthauthor/
Author Twitter: https://www.jscottcoatsworth.com/jscoatsworth
Author Instagram: https://www.instagram.com/jscottcoatsworth/
Author Goodreads: https://www.goodreads.com/author/show/8392709.J_Scott_Coatsworth
Author QueeRomance Ink: https://www.queeromanceink.com/mbm-book-author/j-scott-coatsworth/
Author Liminal Fiction (LimFic.com): https://www.limfic.com/mbm-book-author/j-scott-coatsworth/
Author Amazon: https://www.amazon.com/J.-Scott-Coatsworth/e/B011AFO4OQ