Exposed by H.L Day
Release Date: 24th August 2020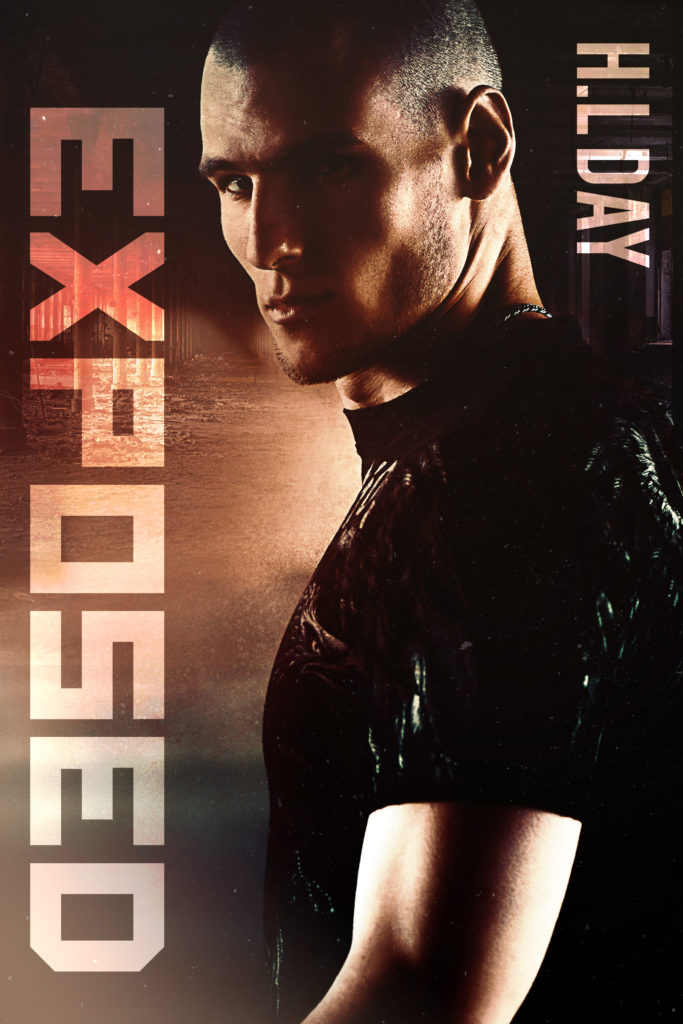 Available at Amazon
Romance ~ Thriller/Suspense ~ Science Fiction
Sometimes salvation comes from the most unlikely hero.
When Tate Gillespie is marked for death for a crime he didn't commit, his life crumbles. In a world where 'justice' is meted out by a relentless military force, he's going to need more than a mythical guardian angel. His life down to seconds, he's saved by the mysterious X, a knife-wielding man he's never even met before. But who is X? Is he the man who threatens and kills without a second thought? Or the strangely gentle man who only seems to act that way around Tate?
X is a shadow. A wraith. A man who flits through the city virtually unseen. He's got no time for people when knives are far more reliable. X does have one weakness though—the man he's been keeping safe for years who doesn't even know it. He'd burn the whole world to keep him alive. But what he won't do is stake his claim. Tate's not his and he needs to remember that, no matter how close they might become.
With the military in hot pursuit, they're going to need to rely on X's skills to keep them both alive. Tate's feelings are growing with every hour they spend together, but X is a tough nut to crack. Can two people from very different backgrounds really find common ground? Or will one of the many perils they face throughout their long journey drive them apart?
It's all about survival. Not love. Isn't it?

Excerpt
I turned in a slow circle, my gaze raking across every nook and cranny in order to try and find out more about my mysterious… friend? Was he a friend? He'd saved my life. There was no disputing the fact. But what that made him, I wasn't too sure. Did he want something from me? If so, what? I didn't have anything to give him. I had some money in the bank, but nowhere near enough to make putting himself on the wrong side of the MPG worthwhile. I needed to start demanding answers from him.
Stepping back, my foot brushed something against the wall. I glanced down, expecting to see something innocuous like a rug, although my previous thoughts about soft furnishings should have told me that that wasn't possible. In the circumstances, the scream that escaped from my throat was unavoidable. I'd barely started though, before a rough hand clamped over my mouth and stopped in its tracks. It held fast as I automatically struggled against the pressure. A hand fastened across my chest, pulling me flush against his body so that we were pressed together. Again. The only difference this time was that my back was to his front. Lips hovered by my ear. "Shhhh… we might be underground but there are vents. If you scream, someone might hear. Nod if you understand."
Despite the surge of panic still turning my blood to fire, I managed a shaky nod, the hand fastened over my mouth shifting with the motion.
More words were spoken directly into my ear. "I'm going to let go now. Promise you won't scream."
I gave another nod, the fingers covering my mouth slowly loosening as X stepped away. My gaze immediately returned to the floor, nausea bubbling away inside me. "There's a dead body in your house."
X's gaze followed mine, raking the prone figure in an unconcerned fashion. "I'm aware of that fact."
"He doesn't have a head."
For a second, the corner of X's mouth twitched as if he might have been considering a smile. If so, it was a pretty strange thing to find amusing. "That happens when you trespass on someone's property."
It all clicked into place. The tripwire. The shotgun. The corpse with the missing head. It still didn't make it normal though. "And you just left him here?"
X tilted his head to the side. "He wasn't really up for going for a walk."
No matter how much I tried not to look at the body, my eyes kept straying back to it. Given the MPG's brand of justice, I was used to death. But death by laser gun left nothing but a pile of ash. I wasn't used to seeing bodies with nothing but a ragged stump of flesh where their head used to be. There was a sweet, cloying smell coming from it as well. Only faint, but it was still there.
X walked over to what passed as a sofa, sweeping a covering from it and laying it over the corpse. "Better?"
"Yes." It was better. At least I could stop looking at it now. I forced myself to walk away from it until I was in the middle of the room. But when my eyes strayed over to the bed in the corner, I almost wished I still had the corpse to stare at. It suddenly struck me that I was trapped. I didn't know how to deactivate the trip-wire myself so I'd just walked willingly into a place where I couldn't leave. What if X's intentions were simple? Abduct someone who wouldn't be missed. He could keep me as some sort of sex slave. Chain me to the bed and do whatever he wanted to me. The real question though was why that thought wasn't as repugnant as it should have been.
Meet the Author

H.L Day juggles teaching and writing. As an avid reader, she decided to give writing a go one day and the rest is History. Her superpower is most definitely procrastination. Every now and again, she musters enough self-discipline to actually get some words onto paper—sometimes they even make sense and are in the right order. She enjoys writing far too many different sub genres to stick to one thing so writes everything from rom-coms to post-apocalyptic sci-fi.
Win an ebook copy of Exposed by H.L Day