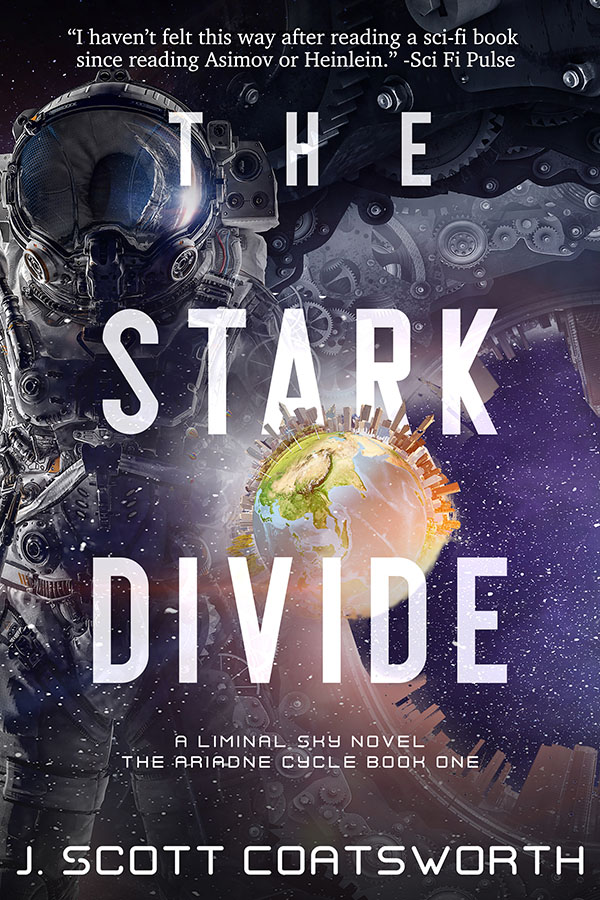 J. Scott Coatsworth has a new queer sci fi book out book one in the Ariadne Cycle: "The Stark Divide." This is a re-release.
Some stories are epic.
The Earth is in a state of collapse, with wars breaking out over resources and an environment pushed to the edge by human greed.
Three living generation ships have been built with a combination of genetic mastery, artificial intelligence, technology, and raw materials harvested from the asteroid belt. This is the story of one of them—43 Ariadne, or Forever, as her inhabitants call her—a living world that carries the remaining hopes of humanity, and the three generations of scientists, engineers, and explorers working to colonize her.
From her humble beginnings as a seedling saved from disaster to the start of her journey across the void of space toward a new home for the human race, The Stark Divide tells the tales of the world, the people who made her, and the few who will become something altogether beyond human.
Humankind has just taken its first step toward the stars.
---
Giveaway
Scott is giving away a $25 Amazon gift card with this tour, and a signed paperback trilogy of the Oberon Cycle (Skythane, Lander and Ithani) – two winners! Enter via Rafflecopter for a chance to win.
Direct Link: http://www.rafflecopter.com/rafl/display/b60e8d47131/?
---
Unique Excerpt
Aaron stood on the bridge of the Hammond, the ship named after his father and his own family name—one of the first of the new, larger Axion-class ships, which were part mechanical and part biological.
Ahead, the new worldlet looked more like a bumpy log than anything else. It grew slowly on the large, curved monitor that wrapped around the front of the viewing deck, which provided a spectacular view of their approach.
Officially, it was called "Ariadne" after the asteroid that had been cannibalized to create it, but everyone on the ship called it "Forever," the impromptu nickname its creator had given it.
He wore his white AmSplor uniform proudly, emblazoned with its white-on-blue galaxy patch. At just seventeen years old, he was one of the youngest cadets to graduate from the academy, and he'd left his brother, Jayson, and his mother behind on Earth to take this post.
His father's death and subsequent heroic legend had drawn him out here to see this place for himself. This new world Jackson Hammond had given up his life to help create.
The ship called the Hammond was much larger than the old Mission-class ships his father had flown on. Dr. Anastasia Anatov and her father had pioneered the biotech that led to the seed and now the worldlet before him, and had later been adapted to build this new class of living ships. The Axion-class required much less in the way of mechanical interfaces than the old Mission-class. They'd also been bred to be resistant to the Anatov Fungus, as the pathogen that had brought down his father's ship, the Dressler, had come to be called.
Captain Tanner came up beside him, putting his hand on Aaron's shoulder. "She's really something, isn't she?"
Aaron nodded. The new world was shaped like a long tube, 26.3 kilometers around and about 169 kilometers long to date, or so his briefing had told him. Her dark outer skin was threaded through with wild crisscrossing lines of shining gold—a bioluminescent effect that had been bred into the original seed's code. She spun to create an artificial gravity via centrifugal force.
As Aaron watched, a pulse of light ran from one end of the seed to the other, and the crackled lines grew suddenly brighter. "What was that?" he asked, aware his mouth had fallen open.
The captain laughed. "That was daybreak. You'll see it from inside soon enough."
Off to the side of Forever, a small blip of light was slowly expanding. Transfer Station—his initial destination out here. It was a huge wheel that spun around a central hub, with five narrow spokes connecting them.
Transfer coordinated all the supply shipments coming in to Forever, including the personnel who had been recruited to work inside the new world.
Aaron was one of those people.
---
Author Bio
Scott lives with his husband Mark in a yellow bungalow in Sacramento. He was indoctrinated into fantasy and sci fi by his mother at the tender age of nine. He devoured her library, but as he grew up, he wondered where all the people like him were.
He decided that if there weren't queer characters in his favorite genres, he would remake them to his own ends.
A Rainbow Award winning and runs Queer Sci Fi, QueeRomance Ink, Liminal Fiction, and Other Worlds Ink with Mark, sites that celebrate fiction reflecting queer reality, and is a full member member of the Science Fiction and Fantasy Writers of America (SFWA).
Author Website: https://www.jscottcoatsworth.com/
Author Facebook (Personal): https://www.facebook.com/jscottcoatsworth
Author Facebook (Author Page): https://www.facebook.com/jscottcoatsworthauthor/
Author Twitter: https://www.facebook.com/jscoatsworth/
Author Instagram: https://www.instagram.com/jscottcoatsworth/
Author Goodreads: https://www.goodreads.com/author/show/8392709.J_Scott_Coatsworth?from_search=true
Author QueeRomance Ink: Liminal Fiction: https://www.limfic.com/mbm-book-author/j-scott-coatsworth/
Author Amazon: https://www.amazon.com/J.-Scott-Coatsworth/e/B011AFO4OQ