Title: His Unexpected Mate
Author: T.L. West
Publisher: NineStar Press
Release Date: December 2, 2019
Heat Level: 3 – Some Sex
Pairing: Male/Male
Length: 23800
Genre: Paranormal, LGBT, Action/Adventure, Bonded, Shifters, Private Investigator, Police officer, Paranormal, murder investigation
Synopsis
Living in a small wooden cabin at the edge of a forest and working to solve the mystery of recent murders, young Eli Bright learns the locals believe a man-beast is responsible.
As an outsider, he is watched very closely as he works with the young local sheriff, Stanley Blake. But Eli knows there has to be a proper explanation. Paranormal creatures don't exist, right?
Excerpt
His Unexpected Mate
T.L. West © 2019
All Rights Reserved
Eli and Stanley acted as fast as possible. They both hurried into Stanley's car, and Stanley drove them to the murder site. It wasn't far, and judging by the houses, the residents liked living a simple life. Eli didn't see one expensive-looking house on the way. There wasn't much traffic either. Eli tried not to imagine how scary and quiet the area would get at night. Speaking of which, the sun was about to set any minute now. Stanley kept talking to his officers throughout the ride. He sounded authoritative to Eli as he talked on his portable car radio.
Eli was surprised when the car stopped outside an ordinary bookstore. There were no other cars in sight. "Is this where the murder happened?" Eli asked, looking at the bookstore again. It didn't seem like a typical crime scene at all. "Why isn't anyone gathered over here?"
"We are keeping this one under wraps from the public at the moment," he said, and Eli followed him out of the car. A few people looked curiously at the sheriff but went on their way.
Eli kept quiet as Stanley opened the door to the store. All the lights were off except one lamp on a counter. Eli looked at the bookcases as he followed Stanley farther into the store. A lot of them seemed old to Eli. Heck, the entire store felt antique. Eli couldn't help but notice a whole bookcase filled with books about dark magic and curses. He remembered what Stanley had told him about the residents being interested in the paranormal.
They reached a wooden door. Stanley opened it to reveal a flight of stairs going to the upper story. "The owner of this bookstore, Robert Mathieson, was found dead upstairs in his apartment," said Stanley as he started to climb. "His neighbor from across the street, Mrs. Beatrice, reported it to the station. She came over to talk to him and found him lying on his bedroom floor, covered in blood."
"Deputy Patterson is already waiting for us," he continued as Eli followed. "Another officer is at Mrs. Beatrice's house trying to keep her calm."
Mr. Mathieson's apartment wasn't big. He didn't look like a tidy man to Eli at all. There were books scattered around the room. Eli noticed some of the books were about ancient magical spells. "Patterson, you in there?" called Stanley.
"Yes, Sheriff," came a voice, and a young man with brown hair walked out from one of the rooms to meet them.
"This is Eli Bright," Stanley introduced Eli to his deputy. "He will be aiding us in the investigation."
"Call me Eli." Eli smiled as he shook Patterson's hand.
"I have to warn you though, the sight isn't pretty," said Patterson.
Eli nodded. He had seen bloody, dead bodies a couple of times while working on cases. He had also spent a lot of hours at the morgue during his investigations. Eli followed Stanley and Patterson into the bedroom. "Oh!" Eli wasn't sure what to say. He had seen pictures of the two previous murders but seeing one for real was a whole other story. Mr. Mathieson's body looked as if it had been attacked by a large wild animal. Eli could make out claw and bite marks all over the man's body, and there was blood everywhere.
"The med team is en route for examination," said Patterson as Stanley looked at the body.
"My take is the attack occurred last night," said Stanley. Eli looked too. Stanley was right. Judging by the condition of the blood on the floor, the body had been lying there since last night.
"Were there no signs of a break-in?" the sheriff asked.
"No, sir," answered Patterson.
"Three murders in three weeks," said Stanley as he rubbed his forehead. He was worried and rightfully so. It was his job to take care of the people living here. Eli wanted to place a comforting hand on Stanley's shoulder, but he didn't dare in front of Patterson, and especially not when he knew he had feelings for him. The med team arrived after a few minutes. It was a good thing the sun had set, and people were already in their homes. It allowed the sheriff's department to keep everything under wraps as long as possible. No one wanted to roam around after dark when they knew there was a murderer, or as they believed, a werewolf, out there.
Purchase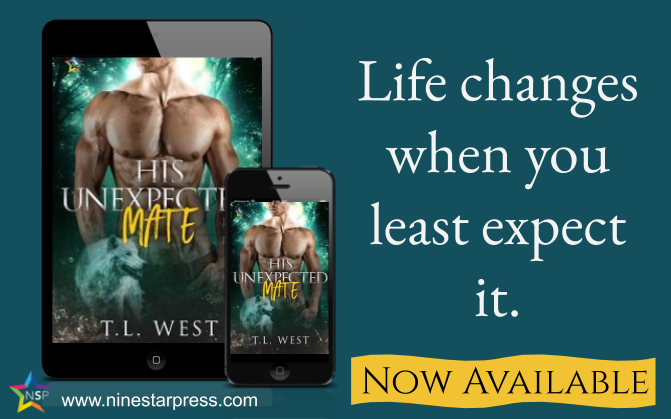 Meet the Author

T.L. West is an author of paranormal romance, mystery and fantasy. He enjoys writing characters that grow during the story and feel relatable to readers. His stories are a mix of romance, action, and danger. He's been writing since high school. He has a degree is Human Genetics. Along with writing stories he also loves staying healthy, drawing, reading and taking the time out to relax. He likes maintaining his privacy.
Giveaway